SAMOS
SAMOS > Local Architecture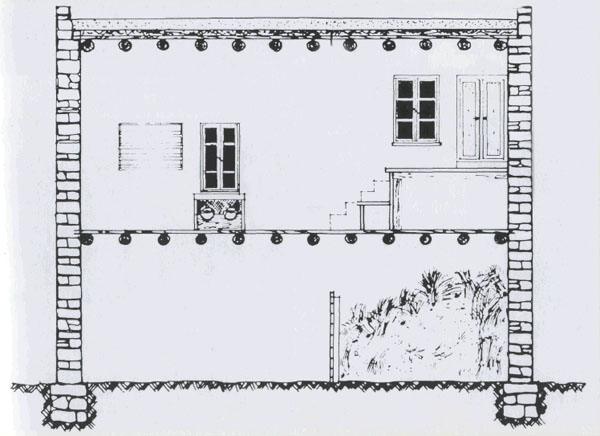 In many villages of the island there are still samples of an older type of house whose roof was made of clay-soil and called taratsa (terrace). This type of house was made of the simplest materials and used to be the most popular in Samos in the middle of the 19th century.

The simple houses of Samos, follow the Aegean architecture. They used to be small because the needs of the people were also deteriorated. The house was used only as a place to eat and sleep. Wood, stubbles, rocks were used for the house's making. It usually had two floors connected by a small stair.

The ground floor was the cellar and the storage room for tools etc. or even used as a shelter for the domestic animals.

The families lived on the first floor. There were no furniture or beds. They all slept on mattresses on the floor. Water was taken from fountains and brought to the house. It was carried in big jugs. The houses were not luxurious but many families with lots of children lived in them.

Same as the houses were the huts that had wine-presses and stoves. A house with two floors usually had a storage room, a sink, cupboards, wooden boards and a clay-soil terrace.

Sections of a two-storied house (in the image)
1: stable, storage room
2: hey storage
3: plate-rack
4: sink
5: jug-rack
6: foodstorage
7: clay-soil loft
8: cupboard
9: hold
10: boards with canes

There are many similarities between these houses and the ones of ancient Samos as well as the ones of the islands of the Aegean during Byzantine times.

Changes started to appear during the time of the Principality. Architects from Asia Minor come to Samos and new types of houses are being built. For instance, the clay-soil roofs are gradually replaced by tiled roofs and the houses take a whole different shape. There is still only one room in each floor. Later the floors were divided into smaller rooms.

In the 19th century, neoclassic buildings are very in-fashion. Large luxurious houses with many decorations are being built.

After the unification with Greece, Samos' architecture adjusts to that of the rest of the islands. Therefore Samos' houses are the same as in every island of the Aegean.
Please share your opinion of it with other travelers. Write a review!